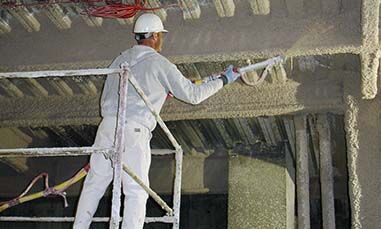 January 16, 2023 / By admin_fireproofing
Fire Rated Spray Insulation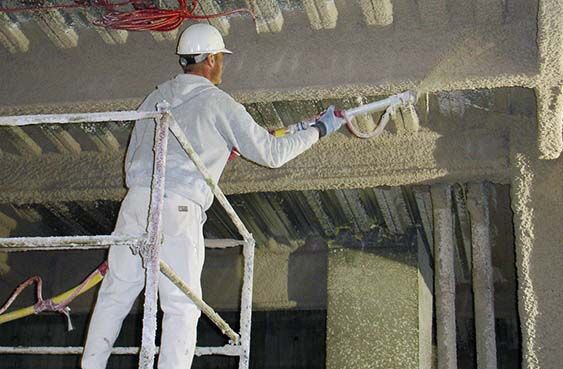 Fire safety is an important factor to consider when building or renovating any structure, especially in densely populated areas like Toronto. Having an appropriate level of fire protection can mean the difference between a safe and unsafe environment. Fire-rated spray foam insulation is one of the most effective ways to provide the necessary fire protection and insulation for structures in Ontario. This type of insulation has been shown to be highly effective in providing superior fire resistance while also offering energy efficiency benefits as well.
Fireproofing Ontario insulation products and services are proud to offer the highest quality of fire-rated spray foam insulation in Ontario. Our fireproofing materials and chemicals comply with the requirements set by the Ontario Building Code, ensuring safety for all residential, commercial, or industrial structures. Our team offers superior reliability and expertise in the installation of fireproofing materials and chemicals that guarantee your building is up-to-code.
We provide the best fireproofing Ontario that you can rely on. We are passionate to deliver our quality fireproofing services .
Fireproofing insulation will help you to avoid devastating loss incase of extreme fire. It provides ample time in-case evacuation is needed.
Our fireproofing contractors Ontario are certified and licensed. They are the best at what they do. They are dedicated to deliver unmatched services at competitive prices.
Fireproofing Ontario helps to prevent the spread of fire and gases that are harmful throughout the building.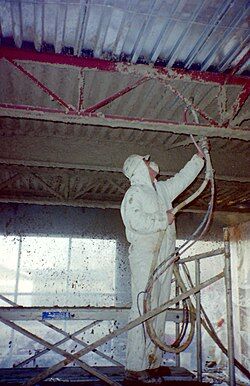 Benefits of Fire Rated Spray Foam
Spray foam insulation is quickly becoming the go-to choice for many homeowners in Ontario due to its superior insulation capabilities. Fire rated spray foam insulation offers an added layer of protection and peace of mind when it comes to fire safety. Here are some of the key benefits that fire rated spray foam insulation can provide:
Firstly, fire rated spray foam acts as a barrier against extreme temperatures and keeps heat or cold from entering or exiting a home or building. This type of insulation is especially ideal in colder climates like Ontario where temperatures can often dip below zero during the winter months. It also provides excellent soundproofing properties, meaning it can help reduce noise from outside sources such as traffic or noisy neighbors.
In addition, fire rated spray foam has been proven to be flame retardant and will help protect against potential fires within the home.
Looking for spray foam insulation near you? Our expert team provides top-quality insulation services that are energy-efficient and cost-effective. Contact us for a quote today. Enhance your safety with our advanced fireproofing spray. Our proven solution forms a protective barrier, offering reliable fire resistance for added peace of mind in any environment.
Alexia
Project coordinator
Alexia is our project coordinator. She ensures assists our team of fireproofing contractors during their projects. She makes sure that there is no communication gap between the client and the team.
Robert
Fireproofing Contractor
Robert is our fireproofing contractor. With decades of experience and expertise in the field he can deliver excellent results. He has good leadership skills and can efficiently leads the team towards operational excellence.
Mark
Field Coordinator
Mark is our field coordinator. He accompanies the team during inspections as well as on the main projects. He ensures and assists or fireproofing contractors for smooth operations.
At Fire Proofing Ontario Canada, we are proud to provide the highest quality fireproofing and fire safety services for all types of projects. We understand how important it is to ensure the utmost protection from fire hazards, and that's why we strive to go above and beyond our clients' expectations. Whether you're looking for residential or commercial fireproofing spray in Ontario or anywhere else in Canada, you can trust our team of experts to provide superior service.
Our capability / Choose us
Fire rated spray foam insulation is an important safety feature in homes throughout Ontario and beyond. Fire rated spray foam products provide superior thermal performance, energy savings, air sealing benefits, and most importantly, they help to protect your home from the ravages of a fire. Here are some key types of fire rated spray foam insulation that are commonly used in Ontario.
Open Cell Spray Foam Insulation is a popular choice for homeowners looking for improved air quality and moisture control. Unlike traditional fiberglass insulation, open cell spray foam has a low-density rating made up of tiny cells which expand upon application to form an effective barrier against moisture and air infiltration. This type also has flame-resistant properties that help slow down the spread of flames if a fire were to start inside or outside the home's walls.
Fire Rated Spray Foam insulation is a type of insulation used to provide extra protection against fire and smoke. It is often used in commercial buildings, particularly in Ontario where building codes require higher levels of fire safety. This type of insulation provides an effective solution for thermal performance, sound dampening and air infiltration control while offering additional protection from the spread of harmful flames and smoke.
Installing fire rated spray foam insulation requires special equipment and techniques to ensure proper application for optimal performance. Professional contractors should be hired who are specifically certified in this particular type of installation and understand the building code requirements when installing it in Ontario. The installer must also be knowledgeable on how to properly mix, apply and finish the product with quality control measures taken into account during the entire process.
For residential and commercial buildings in Ontario, fire rated spray foam insulation is a valuable asset when it comes to protecting your property from the spread of flames. This specialized foam has been designed with specific fire protection measures to ensure maximum safety for buildings both large and small. With the wide variety of fire rated spray foam options available to homeowners and business owners in Ontario, understanding their cost and price range can be beneficial when making decisions about what type of insulation will be most effective for your space.Fire rated spray foam insulation is a low-cost alternative compared to other types of insulation materials, particularly those used for soundproofing or energy efficiency purposes. The typical installation cost ranges between $0.50 – $2.
About company
/About us
From decades we are delivering our fireproofing insulation services. You can rely on our services that the job will be done effectively and efficiently.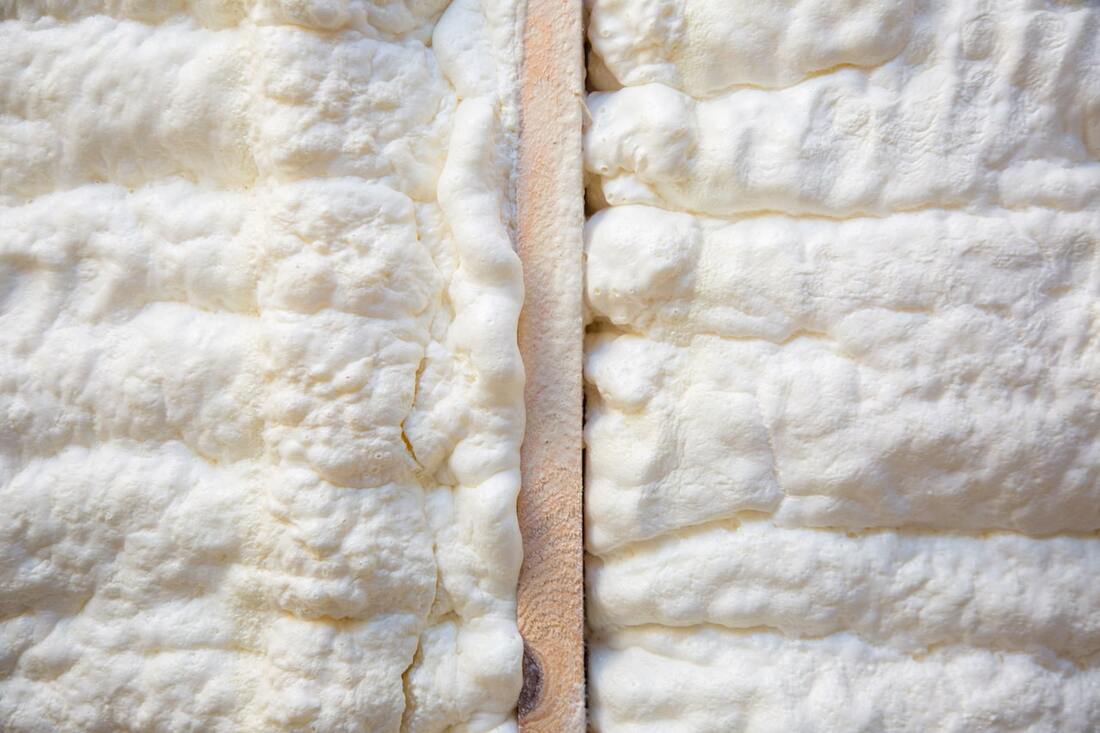 Choosing a Professional Installer
When choosing a professional installer of fire rated spray foam, it's important to consider the company's experience and reputation. Fire rated foam insulation is an excellent choice for improving the energy efficiency of your home, but it must be installed correctly to ensure proper safety and protection from fires. Look for certified professionals who have been properly trained in installing fire rated foam insulation and who are experienced in working with local building codes. Choose a reputable contractor who is willing to provide references from past customers.
If you're looking for an experienced and reliable provider of fire rated spray foam insulation in Ontario, consider Fireproofing Ontario. Our team is comprised of Certified Professional Installers (CPI), trained in the installation of quality fire rated spray foam that meets stringent standards set by local building codes.